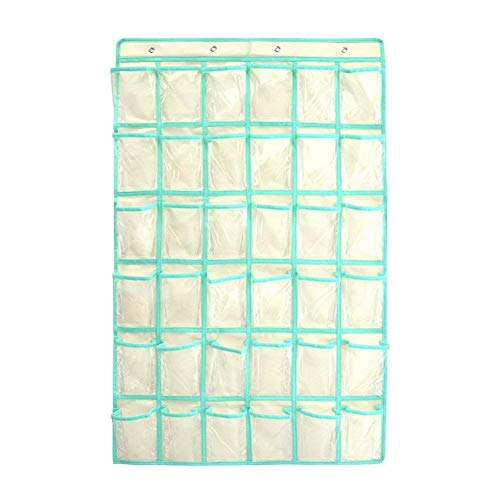 36 Pockets Transparent Hanging Pocket Charts
Brand: blue page
Color: Beige Clear
Features:
♪ Size and Package: 36 pockets, each pocket size: 3.54" W * 4.72" L, fits most sizes of cell phones. Organizer Measurements: 22.83''W * 38.58''H. Package include a 1pc pocket chart with 4 metal hooks for easy hanging on the door.
♪ Thickened environmentally friendly non-woven fabric + transparent PVC material, durable, moisture proof, mildew proof and breathable. Fine workmanship, the edging form makes the entire bag secure and durable. Strong bearing capacity which can withstand 18KG.
♪ Easily hold keys, mobile phones, chargers, cosmetics, hair clips, socks, underwear, dolls, cards and other daily sundries. Lightweight and durable and doesn't occupy space.
♪ Great classroom tool: 1. storing study cards like number/letters/words cards. 2. storing cellphones, watches, cards during learning and doing tests to make the students pay more attention to the lesson instead of other things.
♪ Note: Please allow little size mistakes(within 1cm) due to pure hand measurement, thanks so much for your understanding.
Details: Aufbewahrungsassistent für den täglichen Gebrauch 1. Klassenzimmertelefon. Häufig verwendete Medikamente 3. Socken/Höschen 4. Literacy-Karte. 5. Hautpflegeprodukte. 6. Schmuck-Halskette. 7. Postkarte/Anmeldekarte. Spezifikation: Material: Vliesstoff + transparentes PVC Größe: 57 x 97 cm (B x H). Taschennummer: 36 Farbe: vier Optionen beige/gelb/lila/blau Taschengewicht: 0,3 kg. 1 x Taschentabel; 4 x Haken. Attraktive, praktische Punkte Lernhilfe: Perfektes Taschen-Diagramm für Klassenzimmer, um die Aufmerksamkeit Ihrer Schüler auf Studien und Papiere zu bewahren, keine Sorgen um Ablenkungen. Hausorganisierung Komfort: Das gesamte Design verfolgt die praktische Einfachheit, aber nicht seinen eigenen Charakter und Charme zu verlieren, die Sie in die Aufbewahrung verlieben lassen, um das Hauswort einfacher und glücklicher zu machen. Praktisch: einfach zusammengefaltet und leichtes Design macht es einfacher den Alltag zu tragen. Installationskomfort: Paket kommt mit 4 Haken, sehr einfach an der Rückseite der Zimmertür oder an der Wand aufgehängt zu werden. Über unseren Service Wir sind sehr zuversichtlich in unserem Produkt. Nachdem Sie den Artikel erhalten haben, wenn Sie aus irgendeinem Grund nicht zufrieden sind, bieten wir Ihnen 30 Tage keinen Grund Erstattung Service für Sie.
Binding: Office Product