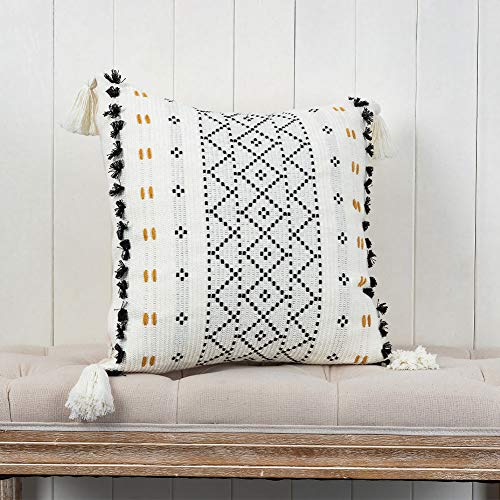 blue page Cotton Weave Boho Decorative Throw Pillow Covers, Tufted Pillow Cover for Couch Sofa Bedroom Living Room, Indoor Outdoor Pillow Cases with Tassels
Brand: blue page
Features:
Find just the right mix of texture and relaxed design with this pillow cover. Luxurious enough for indoor spaces but made to live outside. Hand-woven stripes of variegated tones create a cozy place to cuddle up with your book and a cup of tea.
Woven of pure cotton, this Pillow Cover features geometric lines that are softened by unexpected shapes and textures. From Southwestern and bohemian to Scandinavian and minimalist, this style-spanning accent looks good anytime, anywhere.
Available in four colors, these pillows pair well together on a couch or bed—or any corner where you want to create an inviting space. The handwoven pillow covers combine black waves, diamonds and other stripe shapes in a pattern that looks like an artisanal block artwork.
These throw pillow covers are the perfect blend of stylish meets unique meets functional, have a designer look and feel, will stand out in the mix. Fantastic quality will absolutely exceed your expectations. It is a perfect gift for a mom, wife, friend, bride, or newlywed couple. Additionally, it makes for a great present for special events like weddings, anniversaries, birthdays, graduations, or housewarmings.
For the cotton weave pillow covers, we recommend hand washing separately. The first cleaning may have some floating fiber, which is normal. We strive to provide a better service for our customers, our product is backed with a 100% Money Back Guarantee. If you are unsatisfied in any way with this product, we will refund your money with no questions asked.